About
I'm Hugh, I make the cider.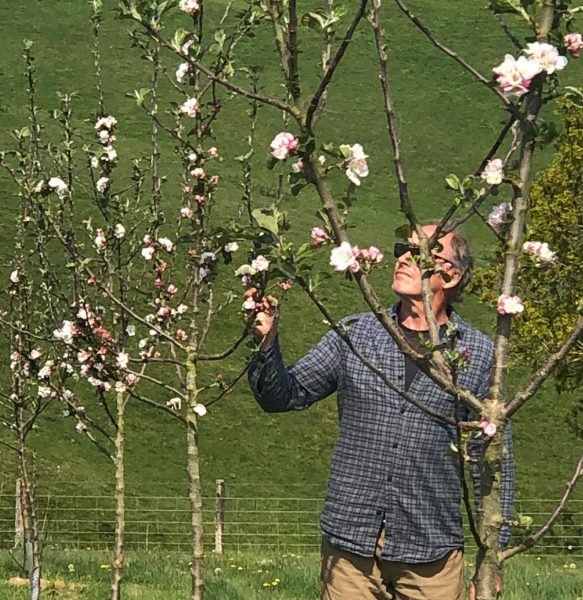 "I have been making cider for about 20 years. In 2018 after moving to Shropshire I started Long Mynd Cider, now in its fourth season."
Our aim is to produce the very best still craft cider.
Unlike large commercial brands, Long Mynd Cider only uses cider apples. The cider apples are milled, pressed then over winter they ferment with their own wild yeasts converting the sugar to alcohol. This takes up to six months. There's never any rush.
After fermentation our cider is conditioned in Scotch whisky barrels before going into the dispensing tanks.
We use our own apples and at least three other local varieties to create a unique flavour and taste.
We think our French Sambron press is the only one in the UK. Made in 1958, it was towed between farms and the owner was paid in juice.
Long Mynd Cider is available locally at good pubs and hotels – and now local shops and off licenses too.
6-7%
We sell cider as 5, 10 or 20 litre bag in box. The box keeps the cider at its best even after it has been opened.
"I always say its 3 sips to 'get it ': one to clean, one to check and one to get the taste full on. It's no alcopop!"
Bottled Cider
This is new! After much badgering, I've now made a sparking medium-dry bottled cider. It takes about two years to come to the boil, so to speak. Lovely to have a few chilling in the fridge for friends, high days and holidays.
It's a wonderful clean and fresh-tasting cider made using local apples, and it's available in cases of 6 x 75cl bottles. Get it locally or in the shop.

It's a refreshing drink that smells and tastes of ripe autumn apples from traditional English orchards.
William Fellows

The cider is delicious, as it isn't that formulaic taste from factory made cider.
Carol Innes
The Process
Get in touch
Get in touch with Hugh today to get your hands on this good stuff, enquire about pricing, or just to drop him a line
Hugh Chapman
The Cider Barn
Colebatch
Bishops Castle
Shropshire
SY9 5LW
07775 631317
Feel free to use the contact form – we'll get back to you sharpish!
Orchards
We love an orchard! Across England there are thousands of orchards, reflecting how important the apple was to rural life.